The Right Insurance for You and Your Yacht
Louis Sola and the brokers at Evermarine Answer your yacht insurance questions
Get a quick and accurate quote from Louis Sola and Evermarine on international yacht insurance by using our yacht insurance quote form.
If you're thinking about buying a yacht, you need to know about yacht insurance. And if you're already a yacht owner, are your sure your coverage is complete? Evermarine is a service-driven company. We don't just sell new Tiara, Azimuth and Bertram yachts and top-quality pre-owned yachts. We help our clients experience all the joys of yacht ownership. So, Louis Sola and Evermarine have put together some information you should know about yacht insurance, an essential for peace of mind.
No matter what brand or size of yacht you own, you need insurance that covers your boat and the people and property on it in case of damage or injury. You should also insure yourself against damages your boat might do to other vessels, and to people and property. You should also insure yourself against damage by uninsured boaters. You will decide the amount of liability the policy will cover.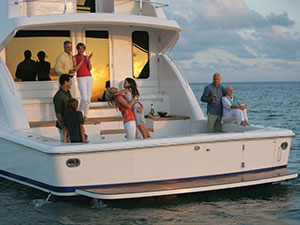 Beyond that, your yacht insurance policy should be tailored to your individual needs. No company has a policy that automatically suits all yacht owners. For example, a yacht that's only used for family cruises has different insurance requirements from a racing vessel.
Pay close attention to what kinds of damage are covered. Some policies exclude theft and vandalism, or natural disasters (including tropical storms). Transport damages may be excluded, as well as damage to boat trailers or other means of transport. Yacht insurance, like auto insurance, has specified deductibles–amounts that set the threshold below which you cannot collect. You decide where to set that threshold. Be sure that the specific gear listed pertains to your vessel. Are all the important systems covered? Or does the list of items covered include a lot of stuff you don't own? Are towing fees to a repair facility included?
Check on where and when your yacht is covered. Some policies exclude damage that occurs in foreign, or even in international, waters. Be sure your boat is covered while it is docked, anchored or stored. Some policies cover winter storage only if you have winterized your boat; others may exclude damage from ice. And some policies have seasonal limits; you may be covered only during the summer.
Examine the personal injury coverage for guests and for crew. Some policies have different coverage for each type of passenger. Just as with cars, boat accidents can injure people who then have a claim for compensation. If you do not already have insurance that offers legal protection and covers such claims, you should have such coverage in your yacht insurance policy.
Yacht insurers should be willing and able to tailor a policy that suits your specific needs. And as you shop, be alert to the quality of service you receive. It's often a good indicator of the response you will get if you ever need to file a claim.
Louis Sola and our expert yacht brokers can answer your questions about yacht insurance. Call +5073141000, or simply click here for our yacht insurance quote form. You can also use our contact form to get in touch.