Evermarine Panama Yacht Charter Services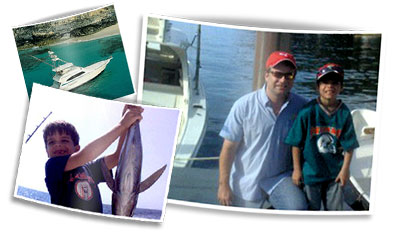 Yacht chartering is the preferred yachting option for the occassional or one-time yachting holiday-maker, or for yacht owners from other parts of the globe looking to experience the excellent yachting opportunities available from Panama with the total convenience of chartering. Louis Sola and the Evermarine chartering service in Panama provides its charter customers with the full range of charter yachts including luxury yachts, superyachts, fishing boats, power boats and sailing boats, fully crewed or bareboat. As the official distributor for Bertram yachts in Panama and Costa Rica, Evermarine has access to the finest crafts with state-of-the-art technology. Thanks to our special relationship with the Italian boat makers, unique to this area of the world, Evermarine offers charter yachts which are next-to-new if not spanking new.
*Charter fishing prices are somewhat variable due to the range and multiplicity of sport fishing opportunities so convenient to Panama fishing. Contact Louis Sola and Evermarine here for more information on rates and packages or call us at +507 836 6010 or +507 314 1000
Our charter fleet includes:
115 foot classic Feadship Yacht: cruises at 12 knots. This classic yacht has teak finishing and 2 full double cabins, 2 twin cabins (all ensuite) as well as crew facilities. Perfect for winter Caribbean cruising.

55-foot Yacht Sportfishing mph Ocean: powered by 892 hp Detroit inboard – cruises at 21 mph. Outstanding for sportfishing charters in the Bay of Panama.

58-foot Sportfishing Haterras: powered by a Caterpillar 1350 hp – cruises at 30 mph. Fantastic for sportfishing tuna, sailfish, and marlin fishing.

57-foot Sportfishing Bertram Fisherman: powered by a 1675 hp inboard that cruises at 35 mph. Can't be beat for offshore sport fishing charters.

100- Broward Motor Yacht: with a master, crew and necessary supplies provided.

43-foot Catamaran Lagoon Power: with Yammar 330 hp that cruises at 21 mph. Great for fishing and scuba diving.

57 foot Brazilian style Sail Boat: for tourism, relaxing and spending hours in the Pacific waters.
Cruising and Sportfishing Charters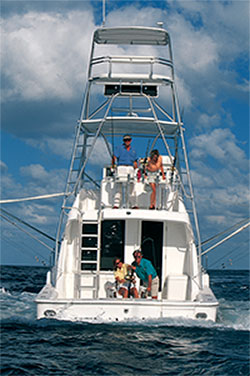 One Day Fishing Charters: 12 hours saltwater fishing with ocean sportfishing around the islands of Taboga, Taboguilla, Tarapa and Chama in the Bay of Panama. Sport fishing charters start at $1200 a day.
Saltwater Fishing Charters: Minimum of 3 days charter fishing with overnight at San Jose Island at Hacienda Del Mar, Contadora, Pîñas bay etc… Deep sea fishing charters start at $2200 a day.
Cruising Charters: If fishing is not your thing, we can customize a cruising package just for you. Sightsee, soak up the sun, scuba dive or snorkel. See hugely diverse wildlife, historic areas and hidden coves. Surfing, sailing, dining, dancing and diving as well as a cosmopolitan city with great restaurants, casinos, and live entertainment.
Contact us here for more information or call us at +507 836 6010 or +507 314 1000
General Information on Panama Fishing: Panama saltwater deep sea sportfishing is accomplished in an Eastern Pacific Ocean Gulf of approximately 12,000 square miles which, depending on your point of reference, could be considered relatively large. Charter fishing area encompasses over 100 volcanic tropical offshore islands including the Archipelago Las Perlas and out past the edge of the continental shelf.
Deep sea fishing circumstances are somewhat variable but generally from late May to early December the Gulf of Panama is usually calm and seas are from 1 to 3 feet with the occasional afternoon squall becoming more frequent during the months of October & November. From late December to early May is the dry season and the North Wind prevails occasioning normally calm mornings with seas typically 2-5 feet offshore in the afternoons, however plug casting and fly fishing can be easily accomplished in the lee of the many Perlas Islands. There is no rain in the dry season.
Panama Fishing Charters: Saltwater gamefish, including Pacific Sierra, chicken Dorado, school Snapper, Corvina, small Grouper, Pacific Jack Crevalle, Trevally, Sharks, Green Jack, Skipjack, Bonito & assorted trash fish.
Panama Deep Sea Fishing Charters: Common fish include Pacific Sailfish, Dorado, Jack Crevalle, Trevally, Pacific Sierra, big Grouper, large Snapper, Cubera snapper, Rockfish, Amberjack, various Sharks, Wahoo, Bigeye Tuna, Yellowfin Tuna, Black Marlin, Striped Marlin, Blue Marlin & assorted trash fish.