Selling Your Pre-Owned Yacht
Let Louis Sola and Evermarine Handle It!
When you sell your yacht through Evermarine, you have our experienced brokers acting as your agent, in much the same way as a realtor acts as your agent when you sell real estate. In most states, the commissions on yacht sales are fixed by law at ten percent. If the buyer also has an agent, the commission is split between the two brokers. So, there's no need to "shop" for a better deal.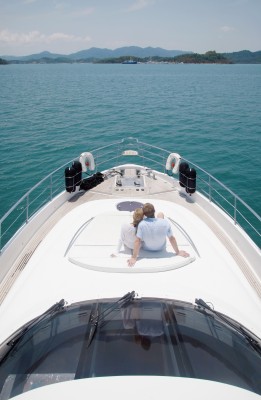 Not only are we committed to getting you the best price for your boat (after all, the better the price, the more we earn), but as your agent we have a host of responsibilities.
We actively market your yacht, listing it on various websites and other advertising venues. We inform potential buyers with whom we've had contact about your vessel.
We also inform other brokers, giving them all the information they need to offer your boat to their clients.
We are always ready to show off your yacht, whether to walk-in customers or by pre-arrangement. We make sure that your boat is always in tip-top shape, with the scene set for sales.
We handle all the details when prospective buyers want to experience your yacht at sea.
We negotiate to get you the best possible price, and we collect the down payment on your behalf.
We work with attorneys to prepare the sales contract. Our experience helps ensure that all foreseeable contingencies are met and that the contract is fair to you.
When both parties have agreed and signed the purchase agreement, we collect the full payment and remit your ninety percent of the price.
Selling your own boat is, perhaps, even more difficult than selling your home—it's certainly easier to be at home for a showing than to run to the marina for a sea trial, for instance. Leave the selling to us, and spend your time contemplating your next boat.
Contact the dedicated yacht brokers at Evermarine today. Call +5073141000, or simply click here.